Hakka Cultural Center
Located near the Xindian River community at the intersection of Dingzhou Road and Shida Road, the Hakka Cultural Center also happens to be centrally located between Taipei City and New Taipei City. A red brick building with white, layered stone walls, the structure is representative of Hakka frugality. The four-story building contains a lobby, interactive multimedia facilities, gift shop, exhibitions, Hakka language certification station, and multi-function classrooms. The center is a joint collaboration between industry, government, academia, civic groups, and art and culture troupes. With a foundation of culture, education, technology, industry, and art, there is no other Hakka center like this anywhere else.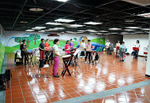 B1
Multi-functional classroom
DIY workshop
Parking lot
Elevators, service center, and communal space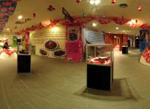 First Floor: Dreams and Migration
Area A
Lobby: The lobby was designed with the Hakka cultural spirit in mind, and is a realization of Taipei's Hakka cultural spirit.
A-1 Hakka Spirit and the Yimin Heroes
A-2 Service counter
A-3 Tour platform
A-4 Rest Area
Area B
Migration and Wandering -- Hakka spirit vs. Hakka migration
B-1 Hakka migration in Taiwan
B-2-A 追本溯源- 「臺北客家人哪裡來」、「Cool Taipei客」、「當代臺北客」
B-2-B 雪桐迎賓-「桐花紛飛」意象代表著客家好客的精神
B-2-C 客在何方-「嗨、您住臺北哪裡呀」
Area C
Hakka Flair
C-1 Multi-functional exhibition hall
C-2 幸福印記-「囍上加喜」
C-3 Gift shop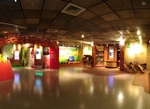 Second Floor: Roots and Hometowns
Area E
The Hakka Perspective - The traditional cultural value and future outlook of the Hakka people are exhibited through Hakka industry, language, tradition, art, cuisine, culture, music, theater, customs, and faith.
E-1 Hakka architecture and settlements
E-2 Unique Hakka industries
E-3 Hakka village festivals
E-4 Hakka dialect
E-5 Hakka fashion
E-6 Hakka cusine
E-7 Hakka inheritance
E-8 Reading and farming passed down through generations
E-9 Hakka sounds
E-10 Hakka faith and religion
E-11 Hakka cultural and creative industry
E-12 Hakka local groups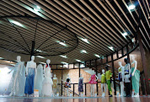 Third Floor
Area F
As the Hakka population lacks a definitive hometown, every individual Hakka community is like its own Hakka village. As communities appear and disappear, this center is a constant place where people can gather and socialize.
F-1 The World of Hakka: The Past and the Future
F-2 A new, courageous breed of Hakka people
Service center and communal space
Multi-functional classroom
Elevators, service center, and communal space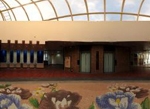 Fourth Floor
Central Exhibition hall
Service center and communal space
Multi-functional classroom
Meeting room
Networking area